BPMA launches first ever Promotional Products Week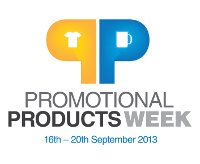 The British Promotional Merchandise Association (BPMA) is launching its inaugural Promotional Products Week (PPW) which will run between the 16th – 20th September 2013, coinciding with the pre-Christmas buying season and ahead of the 2014 promotional planning period.
The event is designed to raise the profile of the promotional merchandise market among end-users and show its power and effectiveness, demonstrating why it should be an integral part of any marketing campaign.
At £765 million, the industry is worth more than the UK online dating industry (£700 million), UK tea industry (£647 million), and the UK office and home furniture industry (£650 million). A high profile marketing campaign to promote the Week is in place including advertising in the key industry and marketing media, a new logo and a new highly informative and educational website, as well as a comprehensive PR and social media programme. The event is being supported by almost 600 BPMA members who will be conducting their own marketing campaigns around the Week and promoting it in their own regions and to their own clients.
Promotional merchandise grabs the attention of people every day, being the only advertising medium that engages all the senses. It covers everything from branded pens, mugs, calendars, USBs and sticky notes to confectionery, clothing, keyrings, sports bottles, stress products and much, much more. Research conducted in 2013 revealed that the branded products most often purchased by marketers are pens (35 per cent), pads, notebooks and Post-Its (13 per cent) and canvas shopping or eco bags (10 per cent), highlighting that usefulness to the recipient is a key factor in the purchasing decision.
Promotional products are used in a variety of ways such as at seminars and conferences, as exhibition stand giveaways, for loyalty and dealer schemes, as Christmas gifts and for fundraising, giving constant brand exposure on a modest marketing budget. For this reason the quality of the product is vital. It must reflect well on the brand giving it away and be something that the recipient will want to keep hold of, thereby providing ongoing brand exposure. In fact, recent research showed that around 87 per cent of recipients had kept a promotional item for longer than 12 months. The research also showed that nearly half (46 per cent) of people questioned said that they like receiving free products that have an advertising message, and half (50 per cent) would like to receive such items more often. In addition, more than half of respondents (54 per cent) said they would go and get a promotional product that was being handed out, provided it was useful to them.
Gordon Glenister, Director-General at the BPMA said: "Promotional merchandise is far more than just a freebie. Used correctly, it delivers powerful and positive advertising messages, as well as a thank you. In fact, our recent research showed that branded gifts can deliver a higher or equal return on investment than most forms of advertising. It also showed that 94 per cent of us remember the advertiser who gave us a promotional item or the product advertised after we have had it for six months and nearly two-fifths (39 per cent) of us are more likely to use a business that has given us a promotional product when the need for the advertised product or service arises, rather than a similar business that has not given us anything."
One of the highlights of the Week is the BPMA Design Awards Competition, which is run in conjunction with Brunel University. Now in its third year, the competition invites UK based undergraduate design students to come up with inspiring, truly original new product ideas for promotional merchandise. The winning design will be prototyped and pitched by the students to companies who use promotional merchandise.
The prestigious judging panel is looking for exciting and versatile new product ideas that have the broadest appeal and optimum longevity, and that demonstrate the paramount importance of brand awareness through surface branding opportunities. The product must be manufactured using sustainable materials and processes and demand minimal resources during its whole lifecycle. Entrants have to present their product idea in a Dragons Den style presentation to the judges.
During the course of the Week a design student will be cycling around London on a special promotional bike and the students taking part in the design competition will be delivering their promotional products to the big marketing agencies in London. This will culminate in a photocall on Westminster Green with Brian Binley MP, the representative within Parliament for the promotional merchandise industry, who will be thanking them for their support during Promotional Products Week and for their part in raising awareness of the power of promotional merchandise.
Gordon Glenister continues: "The involvement of young people is essential for any industry wishing to continue to flourish and develop and that is why this competition is important and attracts so much attention. Outstanding design is the lifeblood of the promotional merchandise industry as brands are always on the lookout for something new that will attract attention. For this reason, the promotional merchandise industry offers fantastic opportunities for talented designers."
Also taking place is a dinner at the House of Commons, hosted by Brian Binley MP and attended by Patrons of the BPMA.
Share this page