Did you get your 2018 EMC Mouse Mat?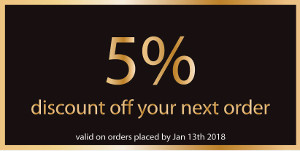 Here are 3 things you still have time NOT to miss out on before you leave your desk to collect the Christmas holiday dust:
Your EMC 2018 mouse mat… It's FREE and just for you … so if you haven't had yours yet, just reply to this email with your name and address and we'll post it out today for YOU....
What's your last day this year?… We'll be here until 3pm on the 22ndtaking orders, creating some great designs for customers and wrapping and packing orders for January deliveries. If you need us, for that last minute something special for a customer or that special project your planning for 2018 … just pick up the phone or drop us an email… we'll be back to you as quick as a twinkle on a magic wand.
And finally …. As a THANK YOU for all you support as a valued customer, here is a little something to help you save some money with that marketing project you're planning in January 2018.
5% discount off your order, this is valid until 13th January 2018 so you have loads of time to, hatch the plan, design and produce something awesome for your customers to kick 2018 off just how you planned. Give us a call and we'll help you with planning and designing something amazing to ensure your customers remember and know who you are throughout 2108.

I hope you have a memorable Christmas and Santa brings you all you deserve.

Merry Christmas and a Happy New Year ..
Share this page