Eco-friendly technology is here!
Sustainable Promotional Technology
This blog will focus on the growing trend for promotional products to be more sustainable throughout the industry and on how it is affecting the world of gadgets and technology.
Many technology items require some internal components which are hard to recycle and dispose such as lithium batteries and wires. However, there is a growing trend to change the outer case materials that can be easily recycled at the end of the products life.
Switching a products case material from plastic to bamboo or FSC managed wood sources helps with the biodegradable properties and also makes for a very soft and desirable finish. Other natural materials finding favour are cork, leather, eco fabric, and of course paper and wood composites.
A growing trend and one to watch is promotional products made from recycled plastic, which are often PET bottles cleared from the sea, representing a better solution for our environment. Other materials, such as recycled metals and regrind silicone, also offer safe and sustainable options.
Choosing materials that break dow+n sooner over time is also a good option, and now we are seeing major companies in the USA producing bio-additives (e.g. BioSphere) which dramatically speed up the degrading process of plastic from 100 years to 3-5 years.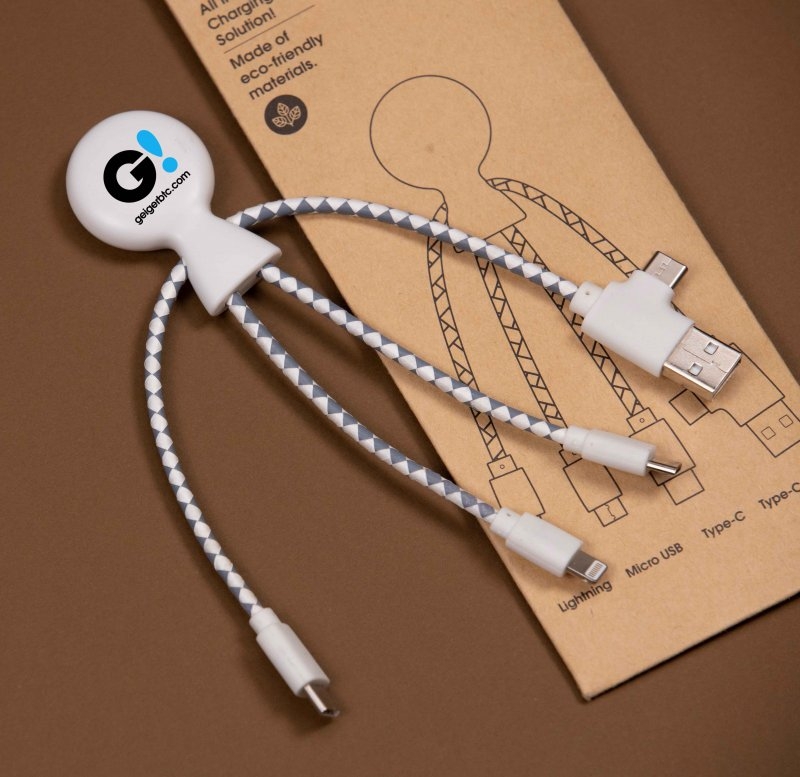 The value of high-quality cables
Charging cables has been one of GeigerBTC's most popular product to their customers and here's why!
As we all lead more digital lives, keeping our devices permanently charged has become a daily challenge. When at home, at work or travelling around, it's a must to have a cable close at hand to plug in and top up at every opportunity! Hence, charging cables are one of our most popular lines. When used as a promotional gift or incentive, it's an easy and visible way to get your brand into the hands of your customers or contacts every single day.
And now we can offer an eco-version too. Introducing the Mr Bio, our first environmentally conscious charging cable, made with recyclable and biodegradable materials to lower the impact that it has on the environment without compromising on style or performance.
In conclusion, gadgets can be more sustainable and are still one of the most desirable items for many marketers. We just need to start choosing better and demanding more
Share this page