High Profile Launches New Range of Sportsline Bottles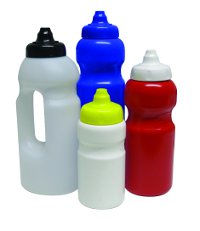 High Profile, the UK's leading manufacturer of standard and bespoke made plastic promotional products, has launched a new range of Sportsline Bottles. All the caps available with the bottles offer the latest valve technology and require suction or squeezing to activate.
The new Sportsline Bottles, which are available in three different sizes varying from 300ml, 500ml and 750ml, come in a selection of five colours with an extended range of seven cap colours. Additionally, a new 'Running' bottle, which is part of the Sportsline Bottle family, is also available in a selection of popular colours and is 650ml in size.
The Sportsline Bottles are the latest addition to High Profile's wide range of popular drinking bottles, which also include the 'Baseline' bottle, the 'Recycled' baseline bottle and the 'Fitness' bottle making them the ideal choice for anyone in need of a refreshing drink whilst on the move.
Richard Wood, Managing Director of High Profile commented: "We are always looking at ways of updating, creating and innovating new products and launching them into the marketplace. The new Sportsline Bottles offers ample space for logos, company descriptors and taglines to be easily added and the bright colours accompanied with varying cap colours ensure that the Bottles stand out."
Share this page