New From Squeezyball – Foldable water bottles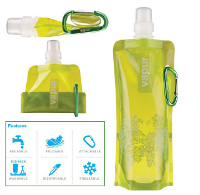 This is the market's Number one green product! It's the 'anti' bottle
No more waste bottles!
Re-usable
Recyclable
Dish-washable
Freezable
Recommended for schools
Show off your green credentials with this half litre folding bottle – ideal for travel and leisure use. Lightweight and compact. Can fit easily in the pocket or handbag and can be attached to the waist belt. Perfect for indoor/outdoor events, sports and school use. Full safety accreditaion available.
PE material can be recycled.
Large branding area: four colour print option.
1000pcs MOQ Unit prices from under £1.00
Share this page